About us

ST Software was founded by experts in the field of of driving simulator technology and driving behaviour research. The products constitute a most advanced and innovative set of software tools for use in driving simulators and is applied in simulators for driver training, behavioural research, driver assessment and other fields of application.
The staff of ST Software has contributed to a number of publications in the fields of:
Driving simulation
Driver modeling
Clinical assessment of fitness to drive
Background

ST Software has its roots in the university: in 1990 we started at the university of Groningen with the development of a car driving simulator that was applied in experimental psychological research on drivingtasks.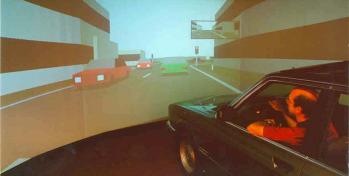 The driving simulator has been intensively used by researchers and students. Because of the wide variation in experimental requirements the driving simulator was designed for high flexibility. This was achieved by the design and implementation of the scripting languages NSL (Network Specification Language) and SSL (Scenario SpecificationLanguage). NSL was used to design the road infrastructure with all of its complex characteristics: most experiments required their own specialized road database. Now NSL is no longer used. It has been replaced by our graphical designtool which allows for a more user-friendly design of graphical and logical databases. SSL offers researchers the tool to create and modify their own experimental scenarios. Since then, we have developed SSL further and it has matured into a highly flexible and versatile general-purpose scenario generation facility. Tight integration with analysis software was necessary for extensive realtime as well as offline driver behaviour analysis.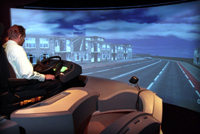 In 2000 ST Software was founded to develop PC-based, low-cost, scalable, high-end commercial driving simulators, starting from the experience with the university research simulator. ST Software is still involved in scientific cognitive psychological research, see for example the Phileas project that we performed in cooperation with the University of Groningen. This was a bus ( coach) simulator for a new type of semi-automatic bus. We have been involved in numerous other research projects as well and are a member of the Dutch driving simulator platform for behavioural research.